I'm delighted to report that the Mad Love Sparkling Mead is hitting shelves this week. This mead is made with honey from Mad Urban Bees, an urban apiary located in Madison, Wisconsin.
This mead is light, sparkling and very easy to drink. It's a great local substitute for Cava or Champagne. Drink it with someone you love or toast your single independence in style!
Here's where you can find it in Madison:
It is available starting Today (Tuesday 2/11/14) at Star Liquor, Trixie's Liquor, Jennifer Street Market, HyVee on Washington, Woodman's West and Woodman's East.
Starting Wednesday 2/12/14, Steve's on University will have it.
Starting Thursday 2/13/14, you can find it at Willy Street Coop West, Barriques (Fitchburg and Middleton), Steve's on McKee Rd, and Whole Foods.
Friday, 2/14/14, it will arrive at Riley's downtown.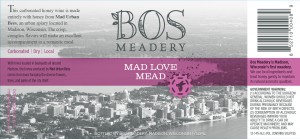 Go forth and sparkle!