We had a private Mead and Cheese tasting last week with 5 Bos Meads, 8 Wisconsin Cheese and a nice French Triple Crème (because you can't leave that out).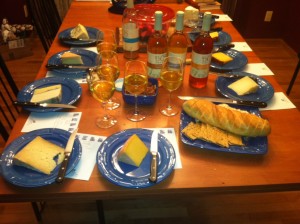 Here's a few things that we learned:
– Carr Valley's Mobay goes nicely with most meads
– The Wildflower Oaked mead went well with most cheeses, although it was especially brilliant with the Triple Crème and the LaClare Farm Evalon LB
– The boldly flavored Buckwheat mead matches well with Bleu Mont Dairy's Bandaged Cheddar.
We look forward to exploring more mead and cheese pairings in the future and sharing the highlights.